Barometer Mtn 5770 & Mazama Dome 5800
(USGS Shuksan Arm)
2/23/02
Party:†
Winter Scramble with Stefan Feller and Alton Willoughby.
<![if !supportEmptyParas]> <![endif]>
Highlights:†
In the traditional song, Grandmotherís house was over the river and through the woods.† On this trip, Barometer Mountain was over the lakes, up and down the saddle, between the lakes, up and down the ridge, and up to the summit, plus an extra up and down the dome (Mazama) on the way back.† Luckily Stefan and Alton were there to break trail through loose snow the whole way.† Barometer was clouded in, but Mazama Dome provided a couple sunlit patches of peaks shining in dramatic contrast to the surrounding dark gray.
<![if !supportEmptyParas]> <![endif]>
Details:
The winter route to Barometer traverses Bagley Lakes (4150ft), climbs up to Herman Saddle (5300ft), and then drops back down to Chain Lakes (4793ft).† We were traveling in heavy overcast with light snow falling, and we didnít encounter any other travelers beyond Lower Bagley Lake.† Once we began climbing up toward Herman Saddle, our snowshoes were sinking deeply, and I was very lucky to be able to follow along in the tracks of two trailbreakers as strong as Stefan and Alton.†
<![if !supportEmptyParas]> <![endif]>
Most of the time we had little visibility.† Occasionally the fog would clear enough to give brief glimpses of the next lake or saddle, and we could sometimes see parts of the cliffs of Table Mountain along the way.
<![if !supportEmptyParas]> <![endif]>
To avoid side-hilling on the loose snow, we stayed on the ridge crest as much as possible beyond Iceberg Lake.† We climbed west up the ridge to Point 5166 (which could be bypassed in better conditions) and then followed the ridge northward down to the col at 4700 and up to the summit at 5763 feet.† Above 5000 feet, the loose snow was so tiring that Stefan and Alton even let me break trail for about five minutes.† Alas there were no views at the summit, except for a brief thinning of the fog looking back toward Chain Lakes.
<![if !supportEmptyParas]> <![endif]>
We retraced our trail back to Herman Saddle, and then did a short side trip north to the summit of Mazama Dome, 5800 feet.† On Mazama Dome, the clouds broke up enough to allow patches of sun to hit Mt. Herman and another peak to the north (which I couldnít identify).† There werenít many views, but they were dramatic, like a spotlight picking out pieces of the peak to illuminate amid the dark surrounding clouds.
Statistics:
7 miles round trip.
Elevation gain 2800 to Barometer (including 1100 loss), 1100 more gain on return from Barometer to Herman Saddle, 500 gain to Mazama Dome.† Cumulative gain 4500.
Trailhead 8:20am, Barometer 12:20pm, departed summit 12:45pm, Herman Saddle 3:15pm, round trip to Mazama & back to saddle 4:20pm, back to TH 5:30pm.† Total time 9:10.
Drive time from Lynnwood to Mt. Baker Parking Lot, 2:30.
<![if !vml]>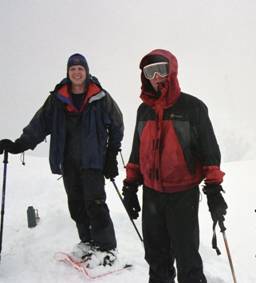 <![endif]>
<![if !supportEmptyParas]> <![endif]>
Alton & Stefan on the Barometer Summit
<![if !supportEmptyParas]> <![endif]>
<![if !vml]>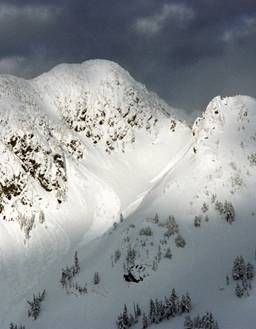 <![endif]>
<![if !supportEmptyParas]> <![endif]>
Mt. Herman lit up among the clouds
Other Route Comments:
Herman Saddle is strangely misnamed, since it is actually the saddle between Table & Mazama.† It would have made more sense to apply the name to the adjacent saddle between Mazama & Herman.
<![if !supportEmptyParas]> <![endif]>
Pictures & Maps:

Alton & Stefan on Barometer Summit
Misty View of the Route to Barometer - Chain Lakes in the Distance

Mt. Herman Spotlighted Amid the Clouds

Mt. Herman as the Light Shifts

Peak Somewhere to the North Catching the Sun

Barometer Mtn & Mazama Dome Route Map
<![if !supportEmptyParas]> <![endif]>
Related Trips:
Mazama Dome & Table Mtn, 4/20/02 - my next trip to Mazama Dome
---
<![if !supportEmptyParas]> <![endif]>
<![if !supportEmptyParas]> <![endif]>